KUNDIG Uniq
All edge sanders of the Kündig Uniq series are very heavily constructed and offer a stable working station.
The Uniq series offers a wide array of practice-oriented features: It has a heavy cast iron working table on one side for solid wood sanding, along with a similar one on the other side for veneer sanding, they can be used simultaneously. The height adjustment and the tilting (up to 45°) of the sanding unit assembly are motorized and no adjustment of the working tables is required. To ensure perfectly even use of the sanding belt, the unit has an oscillation stroke of 90 mm (3.5 inch).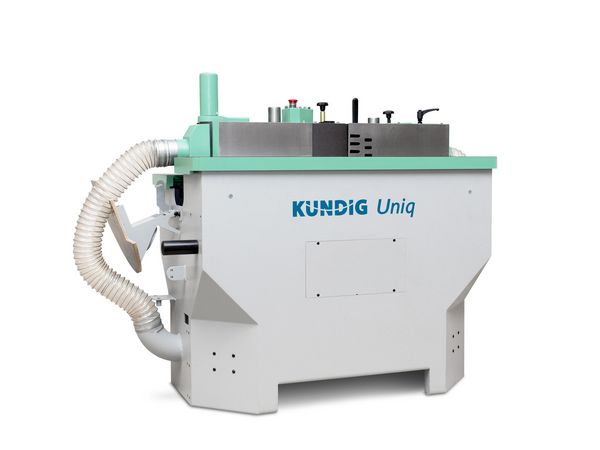 All Uniq edge sanders are characterised by their massive machine body. Because of the above average weight the Uniq series of edge sanders are remarkably stable, even when working with very long and heavy workpieces. Also vibrations are suppressed almost completely which is an important factor in high precision edge sanding. The oscillation feature works differently than in common edge sanders and doesn't involve tilting of the drive rollers. In fact, the Kündig Uniq's whole sanding unit assembly moves up and down - the sanding belt is utilised more evenly, constantly adjusting the table is needless - the working height stays fixed.